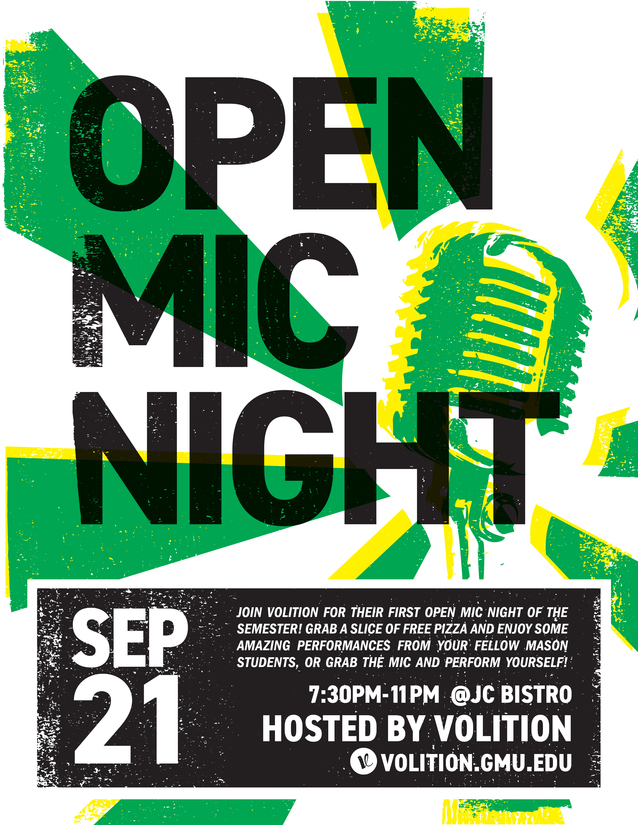 Welcome Back, Mason Nation!
WELCOME BACK MASON NATION! Congrats on completing the first two weeks of school! The team here at Volition is extremely excited for this semester and all that we have planned! Make sure you mark these activities in your calendars (flyers with these events will be coming shortly!):
–Friday, September 21st: Our FIRST Open Mic Night of the semester! All are invited to showcase your talents! (Location: JC Bistro, 7-10pm).
–Friday, October 5th: Stop by the Chipotle on campus and grab yourself a bite to eat while supporting our fundraiser! (Location: Chipotle in the JC, 4-8pm).
–Friday, November 2nd: Our SECOND and FINAL Open Mic Night of the semester! Join us and showcase your talents one last time before finals begin! (Location: JC Bistro, 7-10pm).
–Saturday, November 3rd: Fall submission deadline! This is the last day to submit your original work (prose, poetry, art, photography, screenwriting, etc.) for a chance to be published in our Fall 2018 volume! Visit volition.gmu.edu for ALL information regarding submitting. You'll also be using this site to submit your work as well!
CAN'T WAIT FOR AN AWESOME SEMESTER! SEE YOU ALL ON FRIDAY, SEPTEMBER 21ST!